Darren Bent has torn into Newcastle United defender Jetro Willems for his "shocking" dive in the build-up to Yoshinori Muto's goal against Leicester City.
The Magpies fought back from 1-0 down to seal a 1-1 draw and take Wednesday night's League Cup clash to penalties, the Foxes having opened the scoring with a James Maddison free-kick which took a wicked deflection.
Muto levelled the scores with a tap in from close range following Willems' run down the left flank and into the box but Bent, a regular pundit on Sky Sports, was left blasting the Dutch full-back for what he adjudged to be a dive right before the goal.
Bent told Quest's highlights show: "Straight away, because he's dived I thought the referee's got to stop the play there and book him because it's dissent [sic] at the end of the day.
"It's a dive and the goal shouldn't have counted. It's the most flamboyant dive I think I've ever seen. It's shocking, they're trying to get it out the game and for me it shouldn't have counted.
"I would have liked to have seen, if he hadn't scored straight away, what the referee would have done there. We book players for diving everywhere else on the pitch and that's obviously a blatant dive."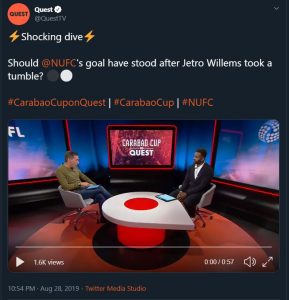 Opinion
There really is not any hiding for Willems after this quite extravagant tumble. Only he knows why he threw his arms, legs and body out as he was felled in the box but he might consider himself rather fortunate it did not compromise his side scoring a goal. As Bent says, you would be booked for such behaviour anywhere else on the pitch and the saving grace might be that the dive did not affect play this time around. However, you can be sure that manager Steve Bruce will be having a few stern words with the Dutch defender to make sure he does not attempt such antics again any time soon. It was embarrassing to see and Bent was right to call him out for it. It does not matter where you have come from or what you might have learned in other leagues, simulation has no part to play in the game. If you are going to try con a referee, at least make it a little more subtle than Willems' attempts.