Mike Ashley is facing a "new headache" in his ownership of Sports Direct as the company's auditor, Grant Thornton, has quit their role, as reported by BBC journalist Douglas Fraser. 
The chain of sporting stores have worked with the accounting company since it was floated on the London Stock Exchange in 2007, and has reportedly asked the government as to how it should proceed if a replacement auditor cannot be found, according to the Financial Times.
Writing on his personal Twitter account, Fraser suggested that Ashley may struggle to convince another big auditing firm to get involved with his business due to its unusual ownership structure.
At the end of July, shares in Sports Direct plummeted by as much as 27% after it was revealed that the company was facing a tax bill of £605 million, as reported by the Independent.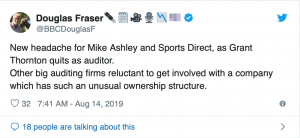 OPINION
On the face of it, this doesn't have too much to do with Newcastle United, but no matter which way you look at this latest update from Fraser, it doesn't look good for Ashley. After July's revelation that he is facing a ridiculously large tax bill, the news that Grant Thornton are walking away from a 12 year association with the company certainly doesn't suggest that things are going swimmingly either. What does it mean for Newcastle, and more pertinently, Ashley's ownership of the club? There are two ways of looking at it really. On the one hand, if the controversial businessman does continue to run into trouble in his other ventures, he could be forced into reassessing his assets, and may feel that making a quick buck from the Toon Army could ease his concerns. On the other, if the club continues to make him money, then there is every chance that he will dig his heels in further and try and weather the storm. Given his track record, don't be surprised if it is the latter.