Former Newcastle United striker Joe Allon is head over heels with the club's decision to re-sign Andy Carroll, calling him 'the best in the country' with his back to goal.
The giant Geordie returned to St James' Park on a one-year deal on deadline day, eight and a half years after he left the Magpies to join Liverpool. Allon, for one, is delighted with the move.
"He's unplayable, Andy Carroll – back to goal: he's the best in the country," he told Love Sport Radio. "It will be exciting, especially with the little fella, Almiron, probably playing in behind.
"Hey, if we get Andy Carroll fit we've got a brand new player who's still got plenty of years left. Let's just keep fingers and toes crossed that he comes through. Yeah, it's a massive plus for me."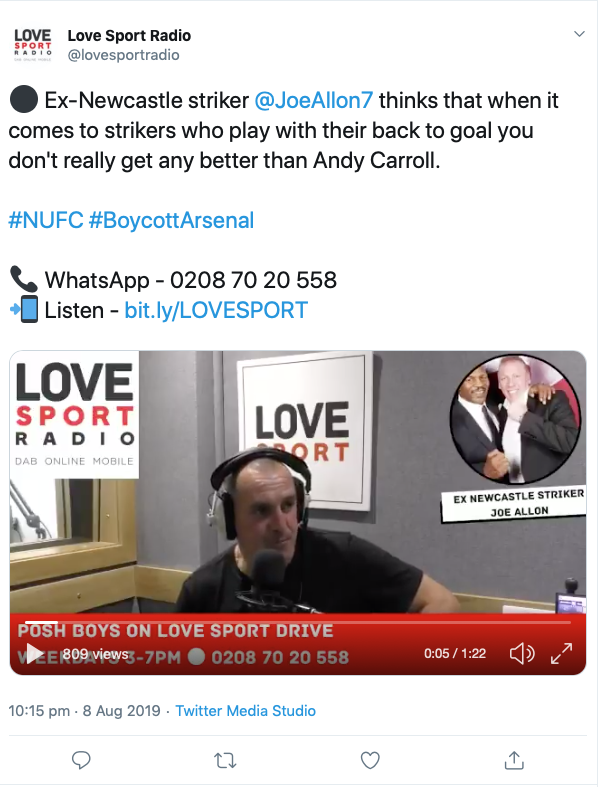 OPINION
Calling the re-signing of Carroll a 'massive plus' is a bit much, isn't it? It's an emotional return to the north east and it sees club and player reunited once again. However, there's nothing evident in recent years to suggest that Carroll will be a success at St James' Park. The big thing, obviously, will be getting him fit and keeping him fit, a task which has proved beyond him in recent years. He's an injury-prone 30-year-old, so let's convince ourselves that this is a transformative signing for Steve Bruce's side. Having said all that, this is a free hit of a deal for Newcastle. It's understood that the deal for the striker is a low basic wage, heavily incentivised to encourage regular performances and production on the pitch. If he comes in and gets injured again, it won't really hurt the club because they won't then be paying him much. However, if he stays fit and bangs the goals in – happy days! Either way, this isn't a bad deal, but it's unlikely to have a massive impact on the performance of the team this season.