Former Newcastle United striker Joe Allon has called on the supporters to boycott the Arsenal game to try and get owner Mike Ashley out of the club.
A movement has begun amongst the club's fans to try and engineer a mass abandonment of the first Premier League game of the season against the Gunners, and Allon is very much on board, launching a passionate attack on the Sports Direct tycoon.
"[We need] To boycott Arsenal, the supporters and the huge fanbase, not only in this country but around the world, because we don't want another 12 years of Ashley," he told Love Sport Radio.
"He has no intention of selling the club. His assets are stuck in the club, with land that he sold to himself for next to nothing. It's simply a case of AshleyOut, and the one aim for us all is to get rid of this person."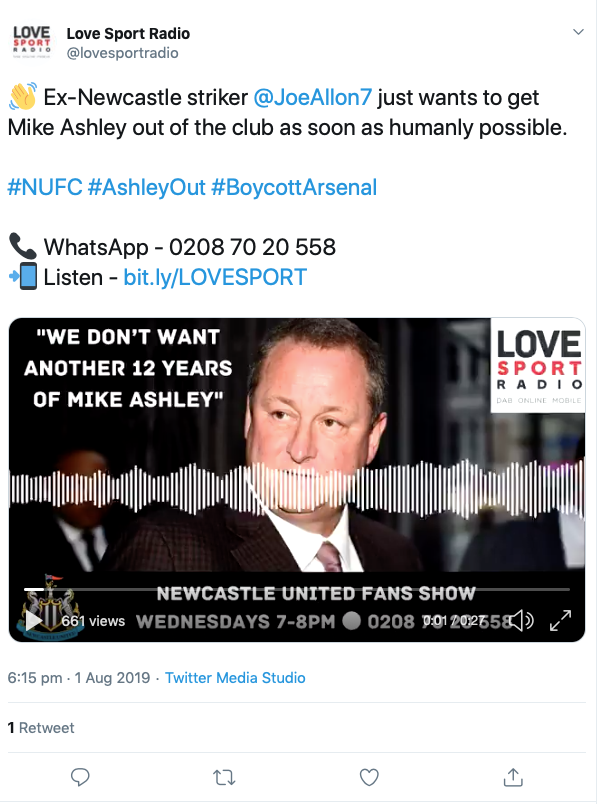 OPINION
In recent months Allon has emerged as one of the staunchest defenders of Newcastle and most vociferous detractors of the owner. Clearly he wants Ashley out as soon as possible, but he doesn't sound very optimistic about the prospect of that happening. He believes that Ashley doesn't want to sell the Magpies because he has so many of his assets tied up in the football club. The boycott is something that needs to happen, but whether it will or not is another matter entirely. We've seen boycotts before, most notably in the Football League, but it tends to happen at clubs that are almost falling out of business. That's not the case with Newcastle. Indeed, they just made a club record signing. However, it's evident that desperate times call for desperate measures and when you consider where the club was before Ashley in comparison to where it is now, it's obvious that action is needed.