Former Newcastle United striker Joe Allon has labelled new Magpies manager Steve Bruce 'Mike Cashley's puppet'.
The former Sheffield Wednesday boss was appointed as Rafael Benitez's successor at St James' Park last month, and the decision clearly hasn't gone down too well with Allon.
"I would've had more respect for him if he turned the job down," he told Love Sport Radio. "If he's a true supporter [of the club] he wouldn't work for this tyrant.
"Basically he's Mike Cashley's puppet, that's all he is. The reason he brought him in [Joelinton] – £35-40million allegedly – he scored seven goals in 26 games for German side Hoffenheim – panic buy. Last season we bought Almiron from the MLS, I'm not sure he can handle the Premier League. He's quick, he's slight, but he's got no goals."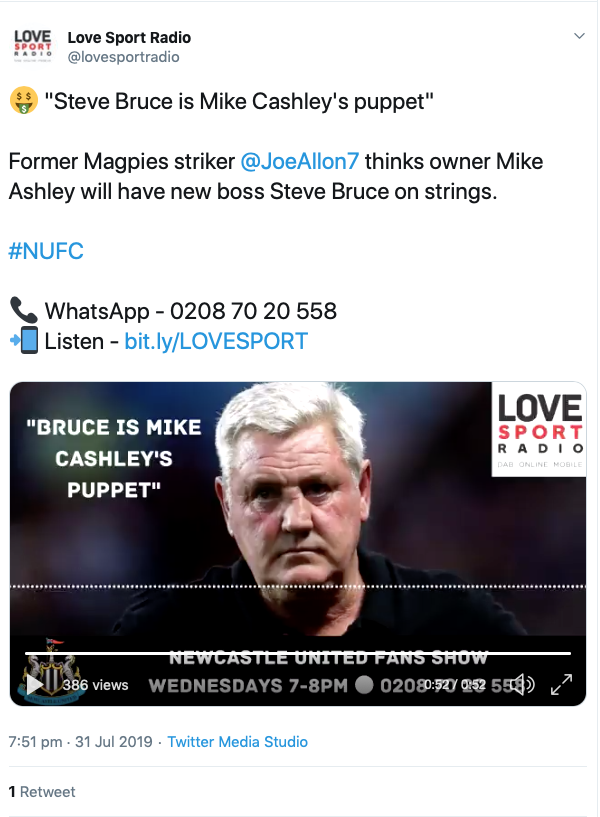 OPINION
Well, Allon clearly isn't happy, is he? Clearly he is furious with Ashley and what he has reduced the club to, and Bruce is almost guilty by association in his eyes. What Allon is saying is that if Bruce was a proper Geordie lad, a supporter of the football club, he wouldn't work for a tyrannical owner like the one currently in charge at St James' Park. However, it's not just Bruce and Ashley who have come under his firing line. Clearly he's not convinced by either of the club's two most expensive signings. Joelinton is a panic buy in his eyes, an attacker whose goal record doesn't reflect the transfer fee shelled out by the Magpies. As for Almiron, Allon isn't convinced he can handle the Premier League, apparently because he hasn't scored for the team yet. Come on now, Allon. He may have a point about Joelinton's track record, but his Almiron criticism is hugely unfair at this stage of his career in English football.