Champions League winner Georginio Wijnaldum has sent a gushing message to Newcastle United on the anniversary of him signing for the club.
The 25-year-old swapped PSV Eindhoven for St James' Park in 2015, but spent just one season with the Magpies, failing to keep them in the top flight, before joining Liverpool.
However, the Dutch international clearly appreciated his time on Tyneside: "Wow, it was 4 years ago today that I signed for my first club outside the Netherlands," he wrote on his personal Twitter account.
"My season at Newcastle helped me grow and develop massively as a player. #OnThisDay," he finished.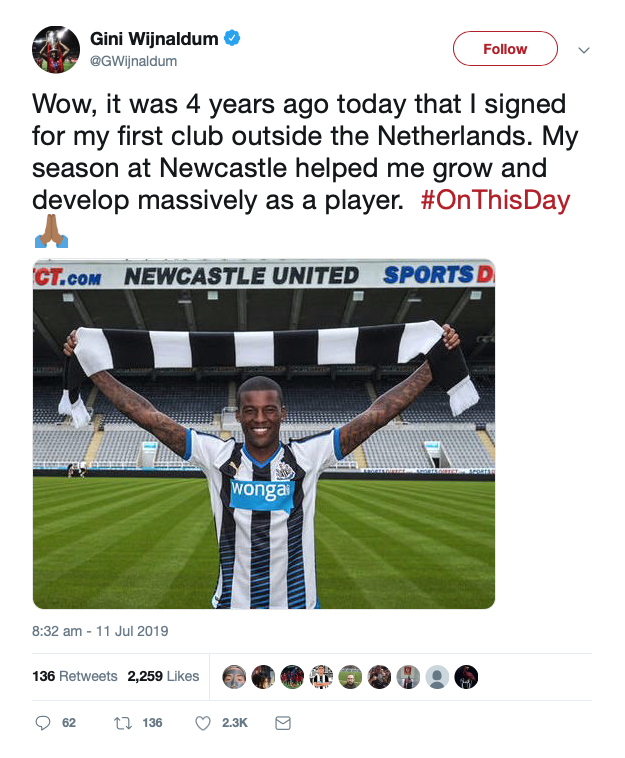 OPINION
It's still crazy that a Newcastle team including the likes of Wijnaldum, Moussa Sissoko and Florian Thauvin suffered relegation from the Premier League. That's a tremendous trio who are now playing for some of the biggest teams in Europe. Out of the three of them, there's no doubt that Wijnaldum performed the best. He popped up with a number of vital goals for the Magpies that season, and was quick to depart having seen his stock rise despite the team's relegation that season. However, he clearly feels that he developed and grew while playing with Newcastle and, after seeing how well he has done at Anfield, it's difficult to disagree with him. The Dutchman has become one of the finest central midfielders in the Premier League, fulfilling the potential he obviously flashed in spurts with Newcastle. He's a quality player and, while he never quite lit it up on Tyneside, he evidently appreciated his time in the north east and is grateful for the Magpies for taking a chance on him.