OPINION
Rodney Marsh asked his followers who currently was the worse run club in the Premier League and Newcastle United won his poll by some distance.
The pundit conducted the poll, via his verified Twitter account, and gave his followers the option of voting for the Magpies, West Ham, Manchester United and Arsenal.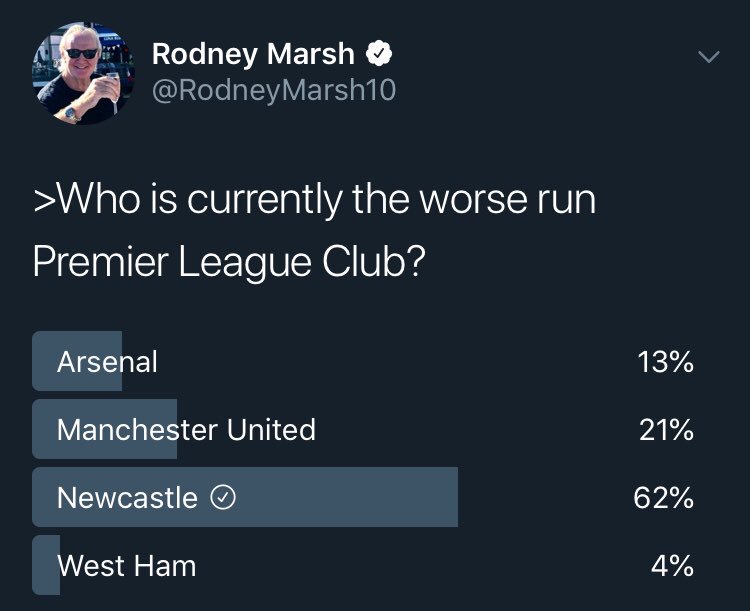 Newcastle ended up winning the poll with 62%, with Manchester United in second- place with 21% of the vote, and surely this result sends a clear message to Magpies owner Mike Ashley.
After all, this poll wasn't just exclusive to Newcastle fans but had supporters from a whole host of clubs voting and that shows how Ashley's ownership isn't just perceived as bad by supporters of the club.
The Magpies owner simply can't dismiss the results by putting it down to Newcastle fans having unrealistic expectations for their club.
Under Ashley's ownership, as it stands the Magpies don't have a manager, no longer have either of the club's top two scorers, Ayoze Perez and Salomon Rondon (Source: BBC), from their 2018/19 campaign on the books and there have been no new signings this summer.
Also given that Manchester United were so far behind Newcastle in the poll, surely that makes it even clearer to Ashley how low the job he is doing at Newcastle is rated.
After all Man United fans previously voiced their anger in their numbers over how The Glazers run their club by using the #GlazersOut on Twitter in June with the International Business Times claiming the hashtag was used over 117k times within hours of being promoted.
Ashley should also receive a clear message regarding this poll based on the fact West Ham only got 4% of the vote.
It wasn't that long ago, June 2018 in fact, that some Hammers fans charged onto the pitch in order to protest their club's current direction, with coins and objects even being thrown at the director's box (Source: BBC).
So while Marsh's poll is a sad reflection of how the mood is likely miserable around St James Park, at least it makes it clear to Ashley how his ownership is perceived.