Simon Jordan shared he suspected that Newcastle United had stumped up the funds needed to poach the managerial services of Steve Bruce from Sheffield Wednesday.
Sky Sports reported on Monday that Bruce had resigned as manager of Sheffield Wednesday after confirming at the weekend that he had spoken to the Magpies about their vacant managerial position.
The broadcaster previously claimed that Newcastle and the Owls couldn't agree on compensation for Bruce with the Championship club holding out for a fee far greater than expected.
Jordan shared that while it's disappointing news for Sheffield Wednesday fans, he did think it meant that Newcastle had agreed to pay the millions needed to compensate the Championship club, which should help matters.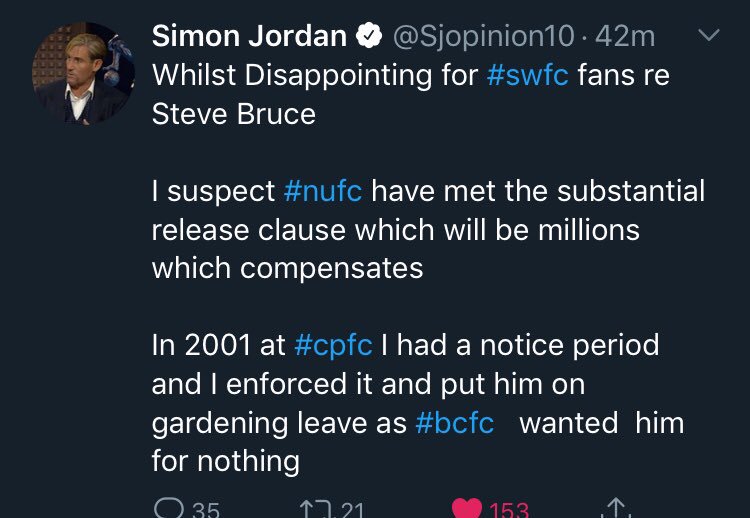 "Whilst Disappointing for #swfc fans re Steve Bruce I suspect #nufc have met the substantial release clause which will be millions which compensates In 2001 at #cpfc I had a notice period and I enforced it and put him on gardening leave as #bcfc wanted him for nothing," wrote Jordan via his verified Twitter account.
OPINION
Jordan clearly was trying to cheer up Sheffield Wednesday fans over the thought of losing Bruce to Newcastle, and while he is likely to be right to claim the Magpies had paid the needed money for him; it won't cheer them up. The 58-year-old manager has an impressive track record at Sheffield Wednesday,  he has so far averaged 1.61 points per game (Source: Transfermarkt), and the fact he only took over the club in October,  surely makes his potential exit from Sheffield Wednesday a bitter pill to swallow for fans. It also doesn't help that Bruce appears to be packing his bags with pre-season already underway as that is going to disrupt the club's preparations for another season in the Championship. However, while Jordan tries to comfort Sheffield Wednesday fans, Newcastle supporters probably need an arm put around them too. Given that Bruce's managerial trophy highlights are simply that he finished as a runner-up in the FA Cup, as per Amazon Prime, compared to the Magpies' former Rafa Benitez who won competitions such as the Champions League; it's hard to see Magpies fans being thrilled.