Mick Quinn has claimed that he is "underwhelmed" by Newcastle United's appointment of Steve Bruce.
The 58-year-old boss was finally confirmed as the new Toon manager on Wednesday, just hours before the Magpies took a 4-0 thrashing from Wolves in a preseason friendly in China.
And Quinn didn't mince his words when delivering his verdict on both developments.
Writing on his personal Twitter, he said: "Just like the Newcastle result in Asia –
underwhelmed!"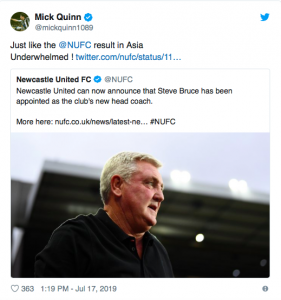 OPINION
Quinn isn't beating around the bush here, and he's probably saying what most Toon fans are thinking. At the end of the day, Steve Bruce, for all of his Premier League experience, and despite the fact that he has registered a points per game average of around 1.6 in each of his last two jobs [Transfermarkt], will not have been anybody's first choice for the Toon vacancy. The Magpies still have ambitions to be more than just relegation fodder in the top flight, and rightly so. This isn't a club with delusions of grandeur, this is a club craving mediocrity. The fact that they aren't even guaranteed that, despite the infrastructure and the fanbase that they boast, is quite frankly disgraceful, and you can't blame Quinn, or anybody else for that matter, for being underwhelmed by the appointment of a figure like Bruce.