Newcastle United will have to spend much more than the mooted £1million fee to secure reported number one managerial target Steve Bruce, according to journalist Alan Nixon.
The Sun reporter revealed the news on his personal Twitter account on Wednesday, directly going against what his own newspaper has reported earlier in the day when they said Bruce is the primary target and his compensation would be no more than £1million.
Nixon has provided an update: "Sheff Wed. Some shock at suggestion that Steve Bruce compo is 1m. It is much much more. Newcastle won't be able to do this cheap …"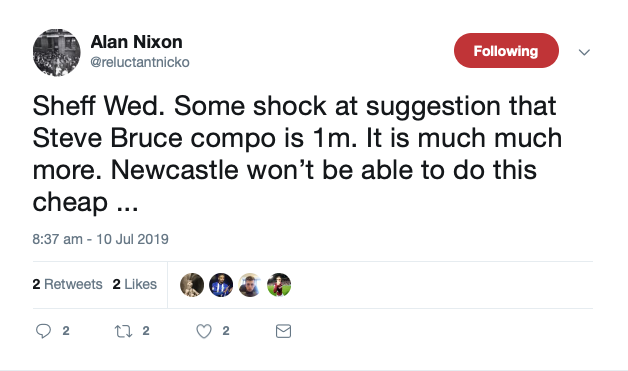 OPINION
It's slightly strange to see a Sun reporter in Nixon directly contradicting what his own newspaper reported earlier in the day. He's clearly received new information from Wednesday, and it's bad news for Newcastle's reported chase for Bruce. Having said that, that's unlikely to be something the Magpies supporters are too upset about. It seems as if the key attraction for Newcastle owner Mike Ashley in potentially appointing Bruce is that it wouldn't cost much in terms of compensation. However, it no longer seems as if that is the case. If Nixon's information is correct, Ashley won't be able to get this deal done on the cheap, as first thought. To spend any more than £1million or so on a manager like Bruce would surely be a mistake. He has done a decent job at Wednesday, but he's fallen short in a number of jobs and had a spell with Newcastle's hated rivals Sunderland. Perhaps this is exactly the sort of update the Magpies fans wanted, after all.