Former Newcastle United striker Michael Chopra has launched a blistering attack on Magpies owner Mike Ashley for the appointment of Steve Bruce as manager.
The club confirmed on Wednesday that the former Sheffield Wednesday chief has been appointed as their new head coach, and it's safe to say that Chopra isn't very happy with the transition from Rafael Benitez to Bruce.
Chopra made a post on his personal Twitter account on Thursday with a photo of Benitez's managerial trophy cabinet alongside Bruce's.
He wrote: "This shows the ambition of @NUFC now sad to see MIKE dont you realise the Geordies hate you and want you out of OUR club #BoycottArsenal #chopra #AshleyOut."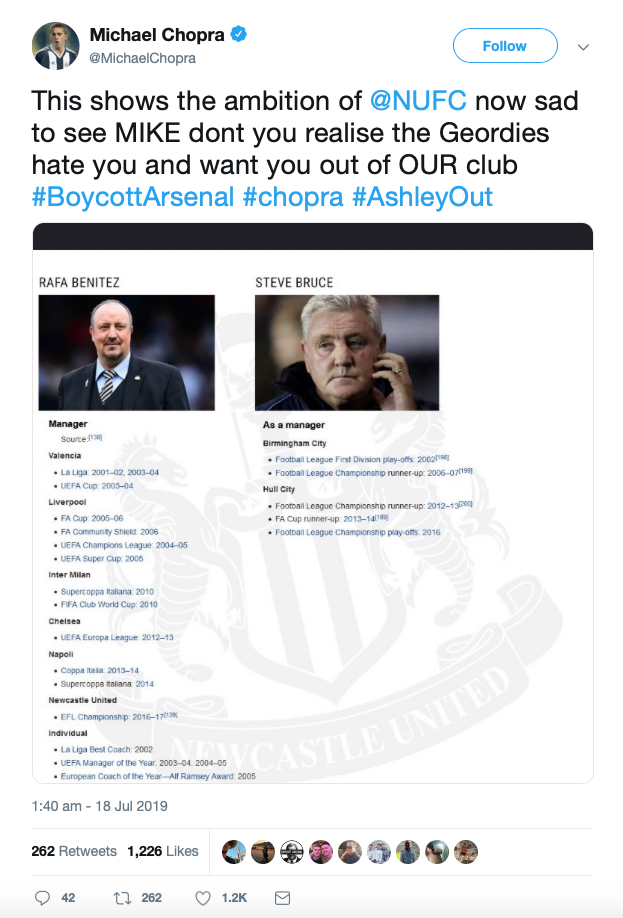 OPINION
Chopra is clearly taking no prisoners, here, but you have to admit he has a point. In terms of managerial achievements, there's no comparison between Benitez and Bruce. One has spent almost the entirety of his career coaching at the highest level with clubs like Liverpool, Napoli and Real Madrid, while the other's most high profile post prior to taking the Newcastle job was a stint with Aston Villa while they were a Championship side. So Chopra, as a former Newcastle player and fan of the club, is right to be disgruntled with the obvious downgrade that has taken place in the St James' Park dugout. Going from Benitez to Bruce shows a clear lack of ambition, there's no other way to read it. Benitez's chief reason for leaving was because those at the top of the club didn't believe in his vision of what the Magpies could become. It's clear, then, that Bruce has been appointed because he is willing to settle for mediocrity despite the size of the club.