Former Brentford and Barnet manager Martin Allen has banged the drum for veteran boss Steve Bruce to be given the Newcastle United job.
Sky Sports reported on Tuesday that the Magpies are considering the Sheffield Wednesday chief as Rafael Benitez's replacement at St James' Park.
Allen thinks he'd be a good appointment: "He's very well respected throughout football," he told Love Sport Radio. "And yes the Premier League has changed, even just in those few years.
"It is different, but they will certainly need some help of the recruitment side, because they desperately, desperately need a centre forward – and they're going to need a central midfielder player if young [Sean] Longstaff moves on. But he certainly bought the positive, feel-good factor back to Hillsborough, there's no doubt about that, and he has got that about him."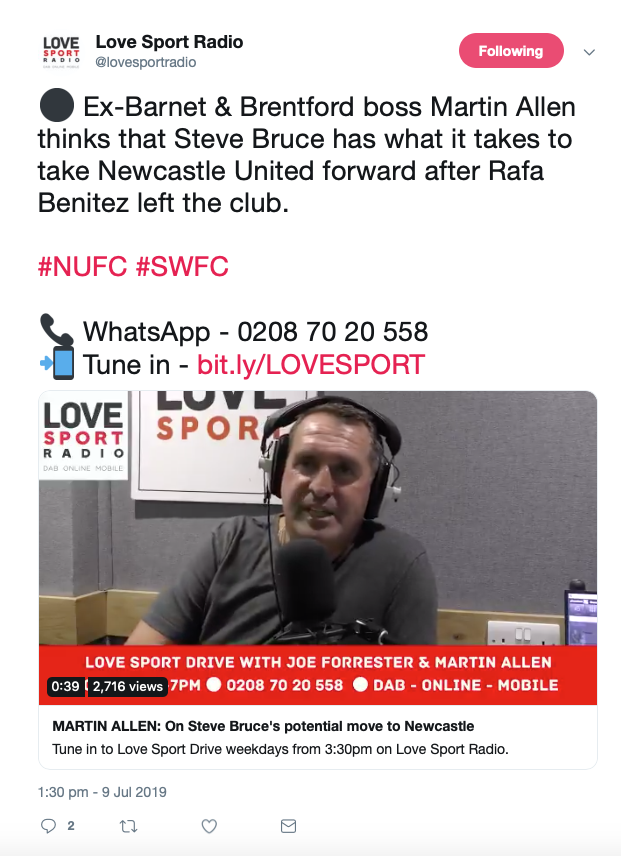 OPINION
Allen is right in some ways. Bruce has done a good job with Wednesday in the short time he's been there. He picked a beleaguered squad off the ground and didn't have them far off the Play Off places by the time the season ended. We know he's good in the short term, though, he always has been. He is a wonderful motivator, an Ian Holloway or Harry Redknapp type, who can put his arm round players' shoulders and make them feel like a million dollars. However, is that alone going to make him a good fit at Newcastle? Does he have the tactical acumen to cope with what is a sub-standard Magpies squad by Premier League standards? That remains to be seen. Obviously he's been around the block a few times, but that block includes a stint in charge of Newcastle's hated neighbours Sunderland. So this wouldn't be a popular appointment by Mike Ashley, but it's unlikely that he would care one bit.