Richard Keys has blasted suggestions that Steve Bruce was 11th choice for the Newcastle United manager's job. 
The 58-year-old was appointed as Toon boss on Wednesday after a protracted search period for Rafa Benitez's replacement, as confirmed by the club.
But a report from Sky Sports News, as cited by the Daily Mail has suggested that Bruce was as far back as 11th choice in the Magpies' hunt.
Keys has taken exception with this statement, however, and took to Twitter to voice his annoyance.
Writing on his personal account, he said: "It is simply wrong to say Bruce wasnt even 11th choice.
"It's mis-information lazily turned round without substance or checking.
"I'm told the source for the story was China."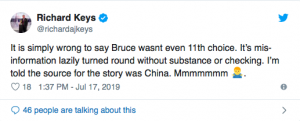 OPINION
What a surprise, Richard Keys speaks out against something that casts Mike Ashley's ownership of Newcastle United in a bad light. This is getting tiresome now, and you have to wonder why the pundit keeps feeling the need to stick his nose in where his opinion is clearly not wanted. Bruce may not have been 11th choice. He might have been first, might have been 101st. The reality is that it doesn't matter. He is manager now and nothing can be done to change that in the immediate future. Anybody who thinks that he was anywhere near the top of the Magpies' shortlist for a new boss is, however, fooling themselves. Say what you like about stability and his affinity with the city, but the fact of the matter is that Bruce was, last season, a mid-table Championship manager. If that is genuinely the best that Mike Ashley thinks the club can do then maybe things are worse than first thought.