Former Premier League midfielder Don Hutchison has ripped an article claiming that Newcastle United manager Steve Bruce is too good for the club.
The Daily Mail published an opinion piece by journalist Oliver Holt on Sunday with the headline 'Fans are missing the target… the truth is that Steve Bruce is too good for Newcastle, not the other way round'.
BBC pundit Hutchison, it would appear, was less than impressed with the sentiment expressed by Holt. He issued a damning two word response on his personal Twitter account.
"Dear me!!," he wrote.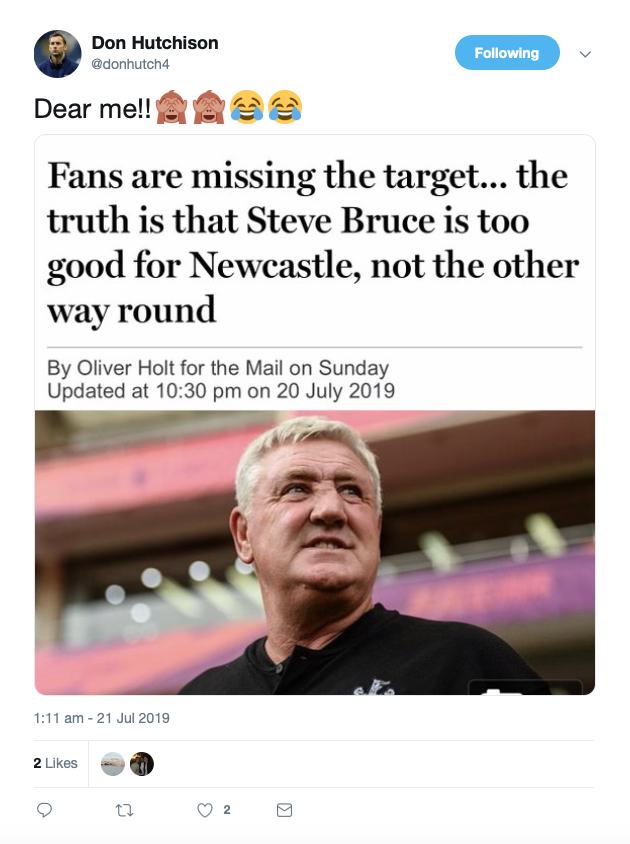 OPINION
It's difficult not to come down on Hutchison's side, here. Look, everyone is entitled to their opinion and Holt obviously has his. He is a well-respected journalist who has been around the sport for a long time now. Clearly he is a fan of Bruce and thinks he's a good appointment for Newcastle. But to say the former Sunderland boss is too good for the Magpies is an absolute joke. There aren't many managers in world football who could be considered 'too good' for the Newcastle position, and Bruce certainly isn't one of them. That, it would appear, is the viewpoint of Hutchison, as well. However, reading through the article, Holt's point is that Bruce is too good for the current iteration of Newcastle, the Mike Ashley Newcastle, not the Champions League-competing team of the Sir Bobby Robson era. In that he has a point, because most managers are too good to work under an owner as parasitic as Ashley. However, Rafael Benitez worked under him, and is Bruce better than Benitez? Not on your nelly.