Former Arsenal winger Perry Groves has said that now is the time for the Newcastle United supporters to keep faith with the club, saying that they shouldn't boycott.
There has been talk amongst the Toon Army that they wouldn't attend the first game of the Premier League season against Arsenal, in a bid to send a message to owner Mike Ashley.
However, Groves feels that would be a mistake: "I watched a couple of games when Steve McClaren was in charge, and the place was soulless – it was completely soulless," he told talkSPORT. "All they can do is not buy the merchandise, that's all they can do.
"Paul Gascoigne came on the other week and he actually said: Newcastle fans, don't boycott the actual game. Go to the game, sing your heart out, get behind your team; if you don't like what you see and the way they're playing, then you can have your say, but go and support your team."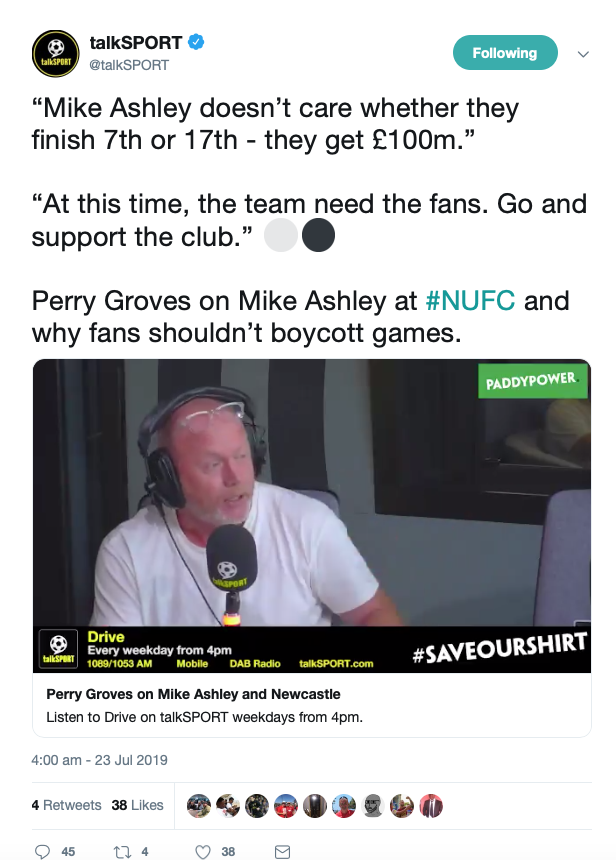 OPINION
It doesn't seem accurate to say that the only thing Newcastle fans can do is not buy the merchandise. Why can't they boycott the game? They may not want to, some of them, but what actual reason is there that the fans can't all come together and decide enough is enough, we're not going to go to this game? There isn't one. The real impediment to a boycott happening and not being successful is the lack of unity amongst the supporters. If some decide to boycott but others don't, then the tickets of the fans who are boycotting will be taken up by some other fans. That would be a disaster, really, because the boycotting supporters would miss out on attending the first game of the season for no real reason, and it wouldn't send any sort of message to Ashley. The Magpies faithful need to hit the Sports Direct tycoon where it hurts: his wallet. The biggest way they can do that is to continually fail to turn up to games. That would have a huge effect on the revenue of the club, which would then send a real statement to Ashley.