The Premier League are still yet to see proof of funds from any prospective buyer interested in Newcastle United, according to Sky Sports journalist Pete Graves.
The Magpies had been heavily linked with a takeover this summer, but momentum has slowed in recent weeks, and a buyout looks increasingly unlikely before the beginning of the new season.
When asked why the Premier League had failed to comment on the matter on Twitter, Graves wrote on his personal account: "The Premier League have been contacted mate. Not by me personally.
"But the feeling last week was they still hadn't received any proof of funds.
"Hence all the skepticism from UK press I imagine."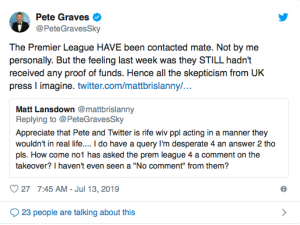 OPINION
This is surely the final nail in the coffin for any hopes of Newcastle getting bought out this summer. After that initial explosion of interest from the Bin Zayed Group, things have hit the skids significantly in recent weeks, and with each passing day, the chances of a takeover become slimmer and slimmer. The fact that the Premier League have still yet to receive proof of funds is really not a good sign, and the longer that this saga drags on without concrete progress, the more ridiculous it becomes. We are now at a point where you have to question whether or not any of the interested parties even have the financial capabilities to meet Mike Ashley's asking price, and to be asking that question at this relatively late stage should tell  you all you need to know about the chances of the Toon Army getting a new owner any time soon.