Rafa Benitez's version of events on his departure from Newcastle United might not have been "entirely accurate", according to the Telegraph journalist Luke Edwards. 
The Spaniard left his post with the Magpies at the end of June after failing to agree to terms on a new contract, and cited the lack of ambition from the club's board as a reason for his exit, as reported by the Chronicle.
But Edwards has suggested that the manager was not entirely blameless.
Writing on his personal account, he said: "My view on Rafa is his version was not entirely accurate and there were two sides in those negotiations.
"They should have kept him, but didn't because he was just as unwilling to compromise as they were."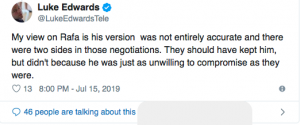 OPINION
Rafa Benitez became something of a messiah on Tyneside, and the notion of anybody suggesting that he might have been at fault for his departure, even partially is never going to go down well. Edwards is an authority on United, and there must be a reason why he has his suspicions, but the Toon Army would much rather believe that Mike Ashley was fully to blame than admit that Benitez could have been partially at fault. To be fair, you can understand why. Ashley has been nothing but trouble for the club, and his word is worth next to nothing on Tyneside. By contrast, Benitez was a saint, and one who clearly adored the fanbase. Does that mean that he was entirely the victim in his exit though? Perhaps not. Sure, he was in the right for wanting more from Ashley, and as such, the owner is in the wrong for not giving it to him, but you have to wonder how early Benitez knew about the eye-watering interest for China, and if things were as draconian as he would have people believe.