Luke Edwards has mentioned Alan Pardew as a potential name in a discussion on the vacant manager's job at Newcastle United. 
The 57-year-old managed the Magpies between 2010 and 2015, helping the club reach the Europa League.
And while it is understood that the Toon Army are keen on Sheffield Wednesday boss Steve Bruce, as reported by the BBC, Edwards did throw out a curveball in an online discussion with The Mag.
After the fan publication suggested that Bruce was only being considered because he would accept strict spending conditions, Edwards replied via his personal account: "You make a very valid argument but a) we still don't know if he is going to take it so maybe it will be Pardew after all b) I don't think he would entertain the idea of leaving Sheff Weds if it was another club in this state.
"But that's just my opinion."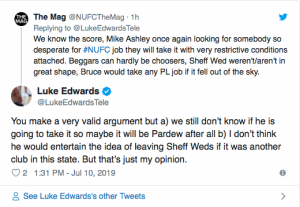 OPINION
Surely Edwards cannot be serious. Pardew was let go for a reason, and he is hardly a revered figure on Tyneside. More than anything, he was seen as a yes man for Mike Ashley, and the last thing the Toon Army would accept right is a figure that they deem to be a patsy for the controversial owner. Bruce coming in would be bad enough for many of them – a Championship manager who used to be in charge of bitter rivals Sunderland, but the prospect of Pardew coming back would be laughable at best, disastrous at worst. You feel that Edwards is maybe being a little bit tongue in cheek here, but honestly, given how calamitous this summer has been on Tyneside, there have been stranger developments than Pardew rocking up with his old black and white striped tie on. Here's just hoping that this is a joke, and nothing more than that.