Sky Sports News reporter Keith Downie has responded to claims from the Bin Zayed Group suggesting that certain accusations labelled against them are false. 
Questions have been raised by the Chronicle in recent days as to whether the Dubai-based consortium have actually put in a formal bid for Newcastle United, but according to Capital Radio UAE reporter Peter Redding, the group claim that this is "simply not true".
Replying to that tweet, Downie seemed to call into question the extent to which the consortium can be believed.
He said: "They also stated they'd provided proof of funds when they hadn't".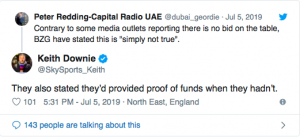 OPINION
Downie isn't pulling any punches here, and who can really blame him?  At this stage, things on Tyneside have descended so far into lunacy and subterfuge that fans must be wishing you could still just describe what is happening as "farcical". Instead, it is becoming downright concerning as to how shambolic things are. Whether there is more going on behind the scenes, who can say, but honestly, at the moment, can you recall a more inept episode at a Premier League club? Either the ownership, the buyers, or both, are incredibly beneath the level required to get this deal over the line. Everybody is assuming that the Bin Zayed Group are some kind of heroic venture that will wave a magic wand and get everything sorted at St. James' Park, but based on the way they have handled the buying process, there must be some concerns that they would be no improvement at all. And that's saying something.