OPINION
It feels that the biggest frustration with the situation at Newcastle United at the moment isn't with the hold up over a prospective takeover, but rather with the lack of concrete information that is being doled out about it. 
Since the Bin Zayed Group exploded onto the scene with their apparent bid for the club, things have entered a realm of ridiculousness that it's hard to find an accurate comparison to in Premier League history.
The will-they-won't-they rhetoric that has dominated the coverage of the story has largely come from two conflicting camps.
One, the group itself, insists that a takeover is imminent.
The other, largely made up of journalists and other doubters, seem less sure.
The Chronicle as even gone as far as to claim that there has been no formal bid for the club from Dubai at all.
As far as the Premier League and the club themselves go, neither has felt the need to comment up until this point, rightly or wrongly.
But the latest comment from Sky Sports reporter Keith Downie would seem to suggest that there could be more going on behind the scenes.
Writing on his personal Twitter account, when asked to categorically state that proof funds from the Bin Zayed Group had not been received by either United or the league, he said: "They haven't done so on the record".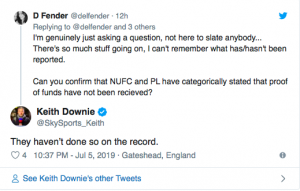 Perhaps it's cynicism whipped up by a frustrating lack of information, but that sounds a lot like they might have said something to that effect off the record, and if that is what Downie is hinting at, then it would essentially mean that the takeover is as good as back to square one.
For now, the wait for something proper drags on.