The Bin Zayed Group are still "buoyant" about their prospective takeover of Newcastle United, and will make a statement in the "next few days", according to Dubai-based reporter Peter Redding.
The consortium have been heavily linked with a move for some time, but progress appears to have slowed in recent weeks, and they are still yet to be granted exclusivity in their bid.
But Redding, who works for Capital Radio UAE, has claimed that hopes are still relatively high.
Writing on his personal Twitter, he said: "As always can only report on what I'm told directly in house.
"BZG still buoyant (have been waiting on PL) "statement in the next few days"."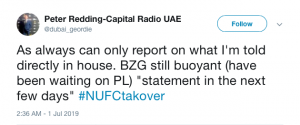 OPINION
Here we go again. Every time it feels as if this rumour can be properly put to bed and written off as another case of what might have been, something pops up to stoke the embers and the hopes that had almost been extinguished spark into life again. At this stage, Redding's comments, no matter how positive they sound, matter for little. The Bin Zayed Group have been optimistic before, and there have been timeframes bandied around before. From an outside perspective, it seems that the next notable steps that need to be taken are for exclusivity to be granted and for the Premier League to sanction a move. If Redding is right, then there is a very good chance that the expected statement could go a long way to clearing up the latter issue. Until the club come out and say that the Bin Zayed Group are the interested party, however, don't expect anything too significant to change.