OPINION
Another day, another anxious wait to see if there is any kind movement on the takeover impasse that has engulfed Newcastle United in recent weeks. 
After emerging out of nowhere to give the Toon Army hope of ousting Mike Ashley, the Bin Zayed Group have gone quite in recent weeks.
Whether that is because negotiations are ongoing, or whether it is because any prospective deal is dead in the water is hard to say, but certainly, the lack of information is becoming torturous for supporters.
But any faint hopes of a deal going through in the near future have surely been given a boost by the latest update from Dubai-based reporter Peter Redding.
Redding works for Capital Radio UAE, and took to Twitter on Wednesday to state that the Bin Zayed Group were in the process of putting together a statement.
Writing on his personal account, he said: "We all have days off, I stated 24 hours ago there would be a statement, and I said in a couple of days.
"What I do know is the BZG are amazed at the amount of support, we await the statement."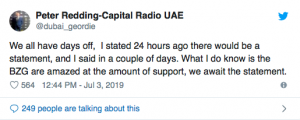 More promising than the statement, however, which could go either way at this stage, is that fact that the consortium are amazed by the Geordie support.
If there were any lingering doubts about whether or not they should move for the club, the manner in which the Toon Army have conducted themselves during the course of this saga should be more than enough to convince a prospective buyer that Tyneside is the place to be.
There is no doubt still a long way to go on this one, but the implication from Redding's tweet is that the Bin Zayed Group seem as keen as ever.