Former Newcastle United striker Joe Allon has slammed the potential appointment of Sheffield Wednesday boss Steve Bruce as the club's new manager.
The BBC reported on Saturday that the Magpies are in talks with the Owls about poaching the veteran boss, and Ashley isn't enamoured with the potential move.
"This would be two north east clubs in Sunderland and Newcastle," he told Love Sport Radio. "What has he done? What has he won? Nothing. How many relegations? A few.
"You can't be a manager of Sunderland… and again it's Mike Cashley stirring it up and trying to get the fans up here who, I'm not being funny, they're so disgruntled that they could offer the job to the Pope and it still wouldn't be good enough, because it's still Rafa-gate up here."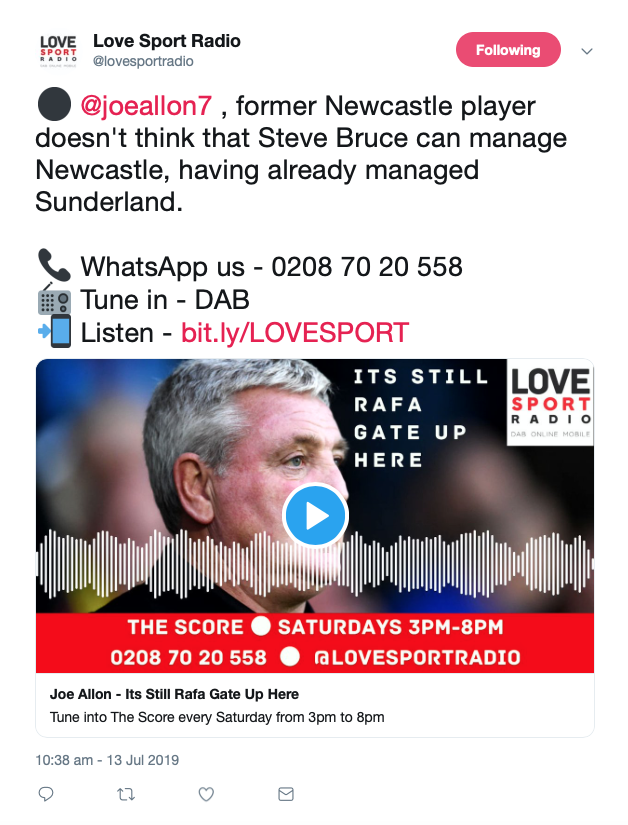 OPINION
Allon makes a number of good points, here. The fact that Bruce is a former Sunderland manager will obviously be held against him from the word go. As soon as he loses a few games – or even before then – it will be used as a rod against his back and he will be targeted by the Newcastle supporters, as is their right. It's unlikely that Ashley is deliberately trying to antagonise the Magpies fans, as Allon suggests, but he's certainly not bothered that replacing Rafael Benitez with Bruce isn't likely to go down well with them. As Allon says, the fans are still thinking about Benitez and what might have been, so in essence nobody who got the job would be the right fit in their eyes. However, for the club to go for such a bland, unambitious appointment as Bruce has clearly wound them right up. It's certainly going to be tough for Bruce if he takes the job, that's for sure.