Rafael Benitez didn't know Newcastle United would be releasing the statement announcing his departure on Monday, according to Steve Wraith.
Nobby Solano's agent, who has had contact with Benitez in the past, revealed the news on his personal Twitter account, revealing the exact moment the Spaniard found out about his official Magpies exit.
According to Wraith, the announcement caught Benitez completely unawares. Emails were exchanged between him and the club on Sunday night.
However, Benitez didn't actually know he was officially leaving until a good friend phoned him to let him know the news was circulating on Sky.
The Telegraph's north east correspondent Luke Edwards also claimed on his personal Twitter account that Benitez may not have known the statement was being released prior to it happening.
Meanwhile, the Daily Mail reported on Monday that sources close to the 59-year-old say he is angry at having to leave a club where he was revered by the fanbase. He still held out hope that the Magpies hierarchy would return with a last minute offer to retain his services, even if he acknowledged that that likely wouldn't have been enough to keep him.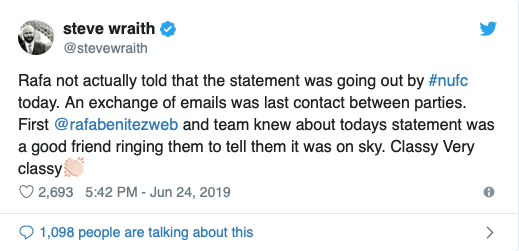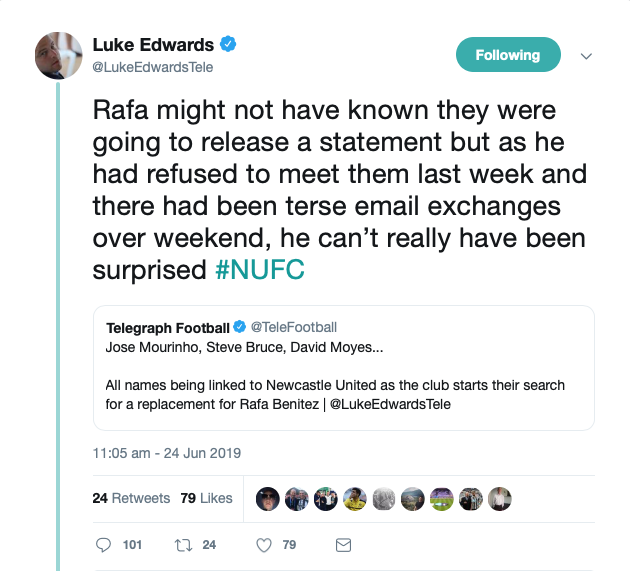 OPINION
Is anyone surprised by this? This is the sort of callousness that has become typical of Newcastle as a football club under Mike Ashley. However, it never fails to dismay you. Benitez has been a great manager for the Magpies; lifting them back up to the Premier League after suffering relegation, establishing them as a top flight proposition again and uniting a stricken fan base. What's his thanks for that? A friend phoning him to let him know the club had announced his departure without telling him. It's just embarrassing really, and Ashley is turning the club into a laughing stock. It wouldn't have taken much for Ashley or Lee Charnley just to send Benitez a text or an email saying 'by the way, we're just about to release the news about you leaving'. That's all they needed to do. Clearly the decision had been made over email on Sunday, so why couldn't they send another email on the Monday giving him a heads-up. That would be too classy for Newcastle, obviously.