Mark Goldbridge fumed over Manchester United's pursuit of Newcastle United midfielder Sean Longstaff due to the player's price tag potentially being £25million.
The Mirror previously reported that Manchester United were confident of agreeing a £25million deal with the Magpies over signing the 21-year-old midfielder, but Goldbridge seemed angry at the mooted price.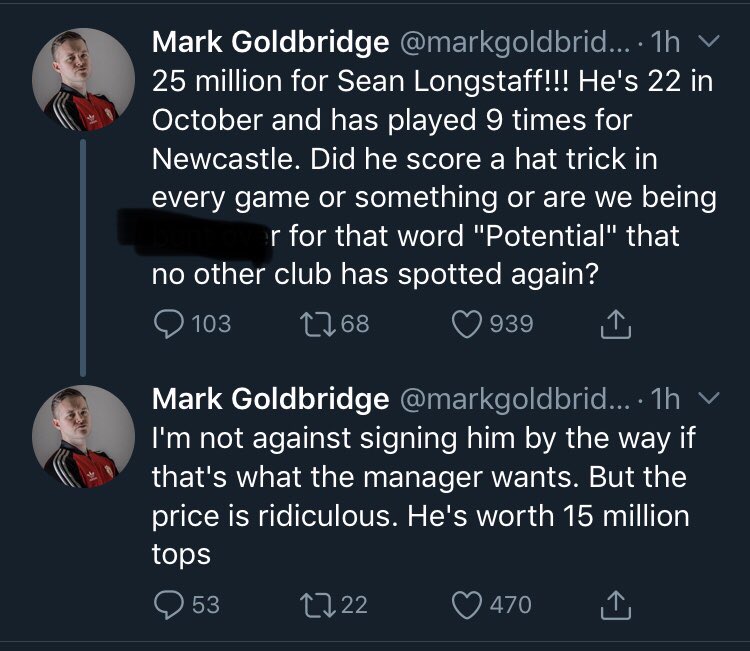 "25 million for Sean Longstaff!!! He's 22 in October and has played 9 times for Newcastle. Did he score a hat trick in every game or something or are we ***** **** over for that word "Potential" that no other club has spotted again?" said Goldbridge, who is the host of the United Stand, via his personal Twitter account.
"I'm not against signing him by the way if that's what the manager wants. But the price is ridiculous. He's worth 15 million tops."
Goldbridge fuming about Longstaff's reported value then saw fellow YouTuber True Geordie send him a cheeky tweet to claim it was a bargain price.
"BARGAIN MATE," wrote True Geordie via his Twitter.
Keep up to date with the latest videos and streams via our Newcastle United live streams page.
OPINION
It seems Goldbridge is unhappy over Manchester United's pursuit of Longstaff just because of his price. The United Stand host happily admits he'd welcome the 21-year-old to Old Trafford if that's who current Man United boss Ole Gunnar Solskjaer wants to sign, but he doesn't want to see his club invest too much in just "potential". However, given the current climate of the transfer market, it's no surprise that Longstaff is being valued above £20million. The Magpies midfielder is still young at 21-years-old, English so will help the homegrown talent quota clubs have to meet and has Premier League experience. Longstaff played nine times in English top-flight in his latest campaign, registering one goal and one assist. The Magpies midfielder also pulled his weight defensively as he won 76% of the tackles he attempted in the league (Source: Premier League). Longstaff likely would have featured more if an injury hadn't cut his season short, and that should be taken into account. However, it seems True Geordie is happy for Longstaff to have a potentially inflated price tag, seeing as his use of the wink emoji implied he thought the player's price was too high, as it makes him more likely to stay at St James Park.