Reliable journalist Alan Nixon gave an update on contract talks concerning Newcastle United manager Rafa Benitez after a fan requested one. 
Nixon claims that Benitez looks to be okay in his current job, and that the Spaniard will have a budget to spend this summer at St. James' Park which suggests there will be a positive outcome from talks.
The journalist responded to a tweet from a Newcastle fan, who was enquiring for updates on contract talks between the club and their manager.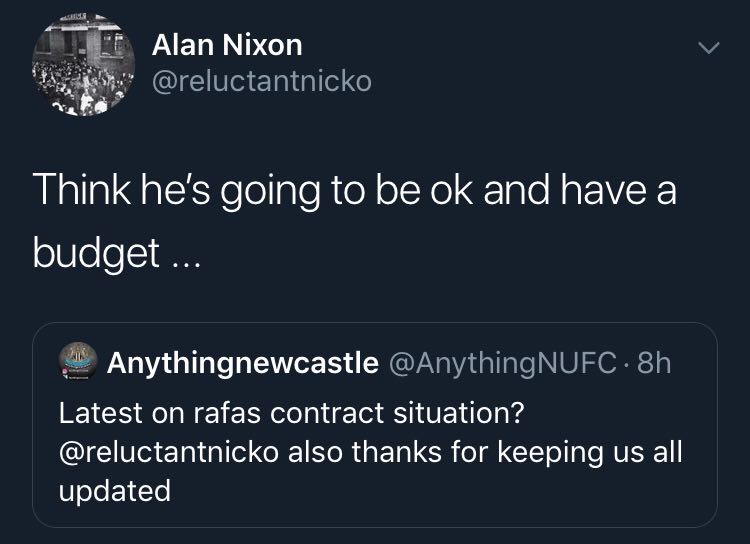 In a 10-word tweet sent from his personal Twitter account, Nixon said: "Think he's going to be ok and have a budget…"
OPINION
This is an update welcomed by the Newcastle fans, especially after talks surrounding the potential takeover of the club have started to simmer down in the last few days. Some fans were becoming a little unsettled with regards to Benitez's future at St. James' Park, but after Nixon's update, things can be a little more stress free as it seems likely that the Spaniard will be the Newcastle manager next season. It was also mentioned that he is going to have money to play with, but the real question remains as to how much money there will be for him. Should the new owners complete the deal in the next month or so, there could be a lot more money available to ship into the first-team squad than expected, which would be another nice surprise for the Newcastle faithful going into the new season. Although the fans will be hoping a takeover is finalised soon, the security of their manager was also a priority, so this is a positive sign for the Magpies.