OPINION
Newcastle United should hope that Manchester United end up feeling the same way about pursuing Magpies midfielder Sean Longstaff as United fan Mark Goldbridge as it will see the 22-year-old stay at St James Park.
The Mirror previously reported that Man United were confident they could clinch a £25million deal to sign the Magpies midfielder and Goldbridge has now shared his thoughts on the club's pursuit.
Goldbridge who is the host of the United Stand, a show which has 481,522 subscribers on YouTube took to his personal Twitter account to suggest £25million was a ridiculous amount to play for Longstaff.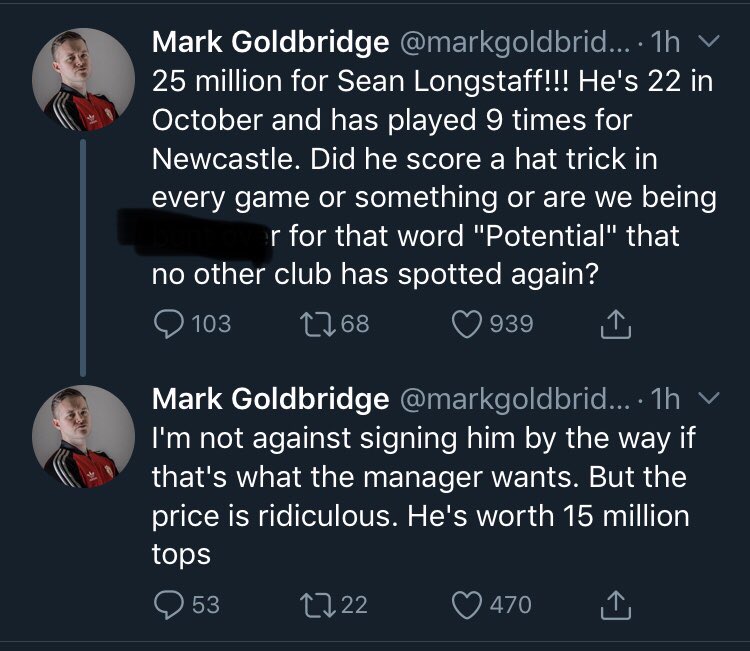 "25 million for Sean Longstaff!!! He's 22 in October and has played 9 times for Newcastle. Did he score a hat trick in every game or something or are we ***** **** over for that word "Potential" that no other club has spotted again?" said Goldbridge via his personal Twitter account.
"I'm not against signing him by the way if that's what the manager wants. But the price is ridiculous. He's worth 15 million tops."
If Manchester United end up feeling the same, then their chances of getting Longstaff are particularly zero.
This is because the Magpies have mostly avoided letting players go cheaply and have always made sure to get the most they can, see how they sold Moussa Sissoko for £30million to Tottenham in 2016 (Source: BBC).
Also if Man United are willing to pay that amount, and would rather pay the amount Goldbridge believes Longstaff is worth which is £15million, then they are not going to change the Magpies' already stubborn stance on the player.
Sky Sports previously reported that Magpies were adamant that Longstaff wasn't for sale and that the club were considering giving him a new contract to reward him for breaking into the first-team, despite his current deal not expiring until 2022.
So with this in mind, the Magpies should hope Man United feel like Goldbridge as it means they won't be tempted to cash-in on Longstaff nor will they have to deal with the hassle of considering their approach.
The 21-year-old was involved in 4% of the Magpies' league goals in his 2018/19 campaign, by scoring one goal and assisting one in his 9 appearances and impressively played 30 through balls during his outings (Source: Premier League).
Longstaff also proved himself to be impressive from a defence point of view in the Premier League as he won 76% of the tackle he made in the division. 
The midfielder would have appeared more if he didn't pick up an injury against West Ham, and his improvement last season surely was an indicator of how he could be a potential Premier League star at St James Park.
After all, Longstaff improved drastically on his 2017/18 campaign that saw him play in League One on loan with Blackpool, as he didn't look out of his depth in the Premier League.
So with that in mind, the Magpies won't want to lose him anytime soon especially to a Premier League rival like Man United.