OPINION
Dwight Gayle has endured a contrasting few years at St James' Park, only being prolific in the club's short stay in the Championship three years ago. The 28-year-old scored 23 goals that season in the second flight, which was an impressive total to say he has only scored a total of 29 goals altogether in his Magpies career.
His goals got Rafa Benitez's men promoted but Gayle wasn't a hit in the Premier League.
A swap with West Brom's Salomon Rondon has proved much more fruitful. The Venezuelan international quickly became a hero in the North East last season, after forming a great partnership with Ayoze Perez and Miguel Almiron. The 29-year-old brought a new dimension to the club, with his physicality perfect for the more skillful players in and around the edge of the box. Rondon finished the season being involved in 18 goals, seven of those being assists.
Stoke were reported by the Chronicle to have been quoted £20million for the signing of Gayle from Newcastle– and Benitez could then use that money to bring in Rondon, who is reportedly available for only £16.5million.
It makes brilliant business sense which makes it all the more surprising that Mike Ashley is reportedly dead set against a move for Rondon.
Comparing the two strikers in their last Premier League campaigns via WhoScored, a move for Rondon would be a smart decision by Rafael Benitez – with the Baggies forward delivering must better results as a lone striker.
Rondon eventually finished with double the number of goal involvements, proving he is much more of a threat than Gayle, who is more effective as a poacher.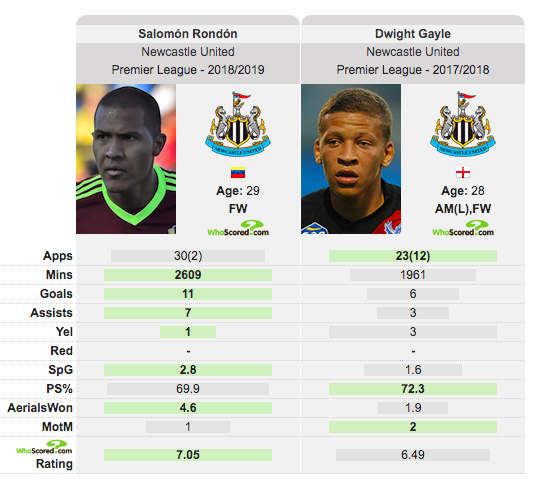 As mentioned, one of the strong improvements in Newcastle's squad, when Rondon leads the line, is his physical capabilities. The 29-year-old held the ball up much better which allowed more attacking players to get into dangerous areas. The most telling stat is the average of aerial duels won per game, with Rondon almost winning three extra each outing.
Gayle played the majority of the season under Benitez after earning promotion back to the top-flight but failed to make a lasting impact through games.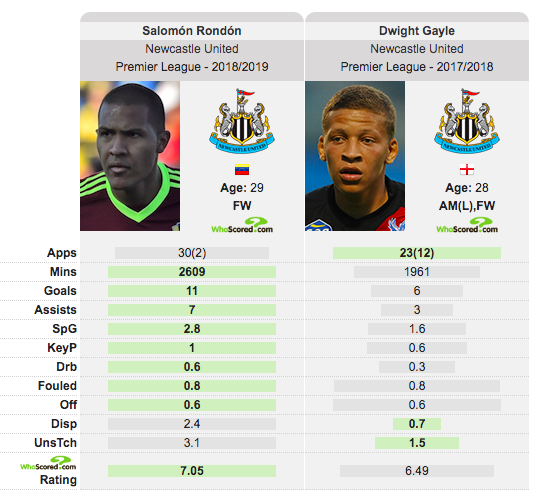 The £60,000 per-week [Spotrac] striker outscored Gayle in almost all attacking departments in the Premier League, with one of the most telling stats being his key passes. The 29-year-old wasn't just a goalscorer but also a provider, something that Gayle has struggled with throughout his career.
Should Benitez get the reported £20million for Gayle from Stoke, he would pull off a masterstroke in replacing him with the influential Rondon. He just needs to convince Ashley.