OPINION
Every year, it feels as if the gap between the end of one Premier League season and the beginning of the next gets narrower and narrower. 
Whether that's a consequence of international tournaments, shorter transfer windows, or the unfortunate reality of getting older, the long, hazy sprawl of the close season now seems more akin to a desperate scramble for resources, as clubs from across the country desperately try to recruit and regroup before the machine cranks into life again.
Bearing all of that in mind, the last thing any side needs is for a couple of highly significant hurdles to pop up in front of them and make their summer even more stressful.
Nobody at Newcastle United seems to have read that memo though.
With Rafa Benitez due to leave today, and with a takeover no closer than it was when the story first broke a few weeks ago, things aren't looking too rosy on Tyneside at the moment.
And if the latest comments from Telegraph journalist Luke Edwards are anything to go by, they could be about to get a whole lot more frustrating.
Writing on his personal Twitter account, he said: "The window for a takeover will be closing soon.
"The club needs a manager and it needs to get on with player trading.
"Talks are ongoing with prospective buyers but those close to Ashley continue to doubt it will happen."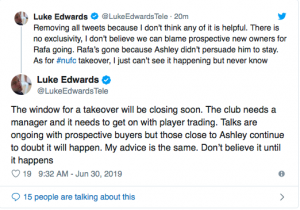 Essentially, time, that most precious of commodities, is running out very quickly if a deal is to be done this summer, but already you fear that we may have passed the point of no return.
The Bin Zayed Group, the most realistic option for a buyout at this stage, are still yet to be granted exclusivity in their bid to takeover the Toon Army, and if they're that far off the pace then you have to wonder how much longer they would need to get a deal done.
The likelihood is that the answer to that question, whatever it may be, won't come soon enough, and if the Magpies are to go into the season with any semblance of organisation they need to start looking for a new manager and some new recruits pronto.
The signs are not very promising up in the Toon.