People close to Mike Ashley continue to doubt that a takeover of Newcastle United will be completed this summer, according to the Telegraph journalist Luke Edwards.
The Magpies have been heavily linked with a buyout from the Dubai-based Bin Zayed Group, but there has been little in the way of official information on the move, and Edwards claims that time is running out.
Writing on his personal Twitter account, he said: "The window for a takeover will be closing soon. The club needs a manager and it needs to get on with player trading.
"Talks are ongoing with prospective buyers but those close to Ashley continue to doubt it will happen.
"My advice is the same. Don't believe it until it happens."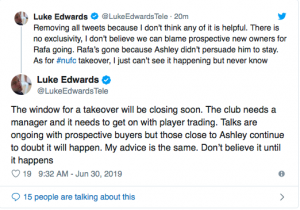 OPINION
This is a cutting assessment from Edwards, but one that won't come as too much of a shock to any watching Newcastle fans. Progress is so slow that if it were any slower it would be going backwards. Who knows, maybe it already is. At this stage, it is almost unimaginable that there will be any kind of positive breakthrough for the Magpies. Whether that is because there is no deal on the cards, or whether it is simply because Ashley has such a stranglehold over the club that it's hard to envisage it without the grey cloud of his ownership hanging above St. James' Park is hard to tell, but honestly, it feels as if it's only a matter of time before there's some kind of announcement that puts an end to all this speculation once and for all. The worrying thing for the Toon Army will be that any such comment is likely to be a negative one.