A section of fans on Twitter have torn Newcastle United full-back DeAndre Yedlin to shreds for his performance for the USA in their defeat to Colombia.
The 25-year-old started for the United States when they took on Colombia, a game which gifted him his 55th cap for his country – but the USA went on to lose 4-2 to the South Americans, despite leading 2-1 at one stage.
Many fans have taken to Twitter to blast the United mainstay, with some comments including "trash", "looked lost" and "had a poor game."
Nothing but Newcastle has rounded up some of the best tweets below: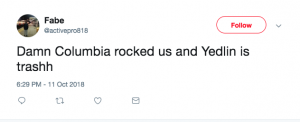 OPINION
Even though Yedlin did not have the best night for his country, the criticism of these fans is actually rather harsh. If anything, Yedlin was the best out of a bad bunch for the USA and he was clearly one of their standout players despite the loss. It is hard for a player like him to perform well if the rest of the team are not on their game – so it is easy to disagree with the verdicts of these supporters. Yedlin is one of the only players who features in the Premier League from this USA team, so it is only a given that he is going to be head and shoulders above his teammates who play in the MLS. Yedlin will just have to take this criticism on the chin, as he knows that he is a good player – something which cannot be shown to its true potential when representing his country.