OPINION
Newcastle United must instantly swoop for pacey winger Sheyi Ojo as he is reportedly hoping that a Premier League suitor willing to bid for him emerges.
The Sun on Sunday's print edition (August 5, page 61) stated that Liverpool were willing to sell the speedster to West Bromwich Albion in a £12million deal but that Ojo was hoping for some late Premier League interest in his services.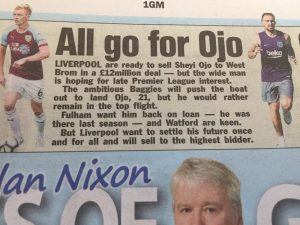 The British tabloid claimed that while the Reds would sell to whoever bid the most for their promising winger, the player himself was willing to hold out to see a top-flight side came in to grab his services.
The Sun reported that Fulham and Watford were keen to borrow Ojo but that Jurgen Klopp's side were seeking a permanent solution for his future.
The Magpies must snatch this chance to sign the attacking talent, who earns £10,000-a-week at Anfield (Source: Spotrac), as he could boost the club's attacking threat for this season as well as future campaigns.
The 21-year-old may now have blown everyone away with his displays for Fulham in the Championship last season, despite featuring 22 times, but he continues to look like his turning into a very capable player.
Ojo has particularly looked impressive while featuring for the Reds in pre-season to such a degree that it's hard to believe the Merseyside giants are actively trying to bin him.
The 21-year-old, who can feature on either flank, uses his blistering pace and tricky feet to get past his opponents but just needs to work on being able to consistently deliver the goods when he finds himself in space because of his ability.
Given that Rafa Benitez has consistently turned rocks into diamonds at St James Park then he cannot doubt work wonders with Ojo and see him fulfil his potential which looks like being enough to see him become a regular fixture in the Premier League.
The Sun previously reported last summer that the Magpies were so keen on signing the Reds' winger that they were making a dramatic £10million bid to get his services, but unfortunately Klopp's side only wanted a temporary solution for his future at the time.
However as he is now staring at a permanent exit from the club, the Magpies should grab their opportunity to sign him as he would boost their current options.